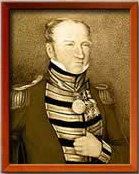 Limerick Civic Trust hosted a special reception to mark the re-opening of Limerick Civic Trust Carrol Collection in its new home, Bishops' Palace, Kings Island, Limerick on Thursday 11 June 2015.
This very important exhibition brings together the military memorabilia and family heirlooms collected by five generations of the Carrol Family starting with Major General Sir William Parker Carrol. It includes memorabilia from the Peninsular campaign, the Boer War and both World Wars and many unique family pieces, all of which have been donated by June O'Carroll Robertson, the last living descendent of the family. June's father Major General A.G. (Tony) O'Carroll-Scott wished for the family's collection to be returned to Ireland.
The Carol Collection – A story of an Irish Family, which first opened to the public in 2002 at the Georgian House and Garden, No.2 Pery Square Limerick, was temporarily taken off display when No. 2 Pery Square was acquired from the Trust as a headquarters for the National City of Culture.
The collection exhibition display is based on the different generations of the family.
Starting with William Parker Carrol there are two cabinets dedicated to him.  The first for his military memorabilia, mainly from the Peninsular war and the second for family heirlooms. His two sons, Hutchinson and Egerton Carrol feature in the third cabinet. Philip Scot who married Florence Carrol has the fourth cabinet for his Boer War memorabilia.
Exhibits from both world wars are displayed in the fifth cabinet, which is dedicated to the donors father Tony O' Carrol Scott and to her husband Jimmy Robertson. The donor of the collection June O' Carrol – Robertson is honoured in the sixth display which also includes more family heirlooms.
The current display of paintings, swords, photographs, trophies, maps, military decorations, estate records and personal family documents offers fascinating insights into the political and social history between the 1700s and 1920s.
Plans are now underway for the remainder of the collection to be transferred from the UK to Limerick Civic Trust, allowing the already comprehensive collection to be significantly enhanced by the addition of new pieces which have never been seen in Ireland before. When complete, the exhibition will offer new and many untold stories of Irish military involvement around the world.
Speaking at the reception, the newly appointed Manager of Limerick Civic Trust David O'Brien said, "We are delighted to be re-opening this important exhibition as it will give visitors the opportunity to see an unprecedented collection."
"This is a significant step in our plan to make the Bishop's Palace more of a visitor centre. Being in the heart of the medieval quarter, it is fitting that we open our valuable and significant exhibits to the people of Limerick and visitors to the city," he continued.
John Isherwood, representing June O'Carroll Robertson, also attended the official opening and presented the Trust with the copyright of two books written by June O'Carroll Robertson.